Now the water vole breeding season is over for another and the water voles retreat into the burrows it seems a good opportunity to review this years sightings and surveys.
As there is quite a bit of information, it will be done over several posts - this first one dealing with the river Ock from the A34 to the weir where it forms the upper and lower Ocks:
A34 to Newcut Mill: This part of the Ock rarely features in this blog; it is where the river flows under the A34, having previously flowed through private land and runs parrallel to the old canal before flowing through the weirs at Newcut Mill - now private houses.
.
.
What is obvious from this part of the map is the lack of any signs of feeding, latrines, burrows or sightings:

View Water Voles in the River Ock - Abingdon, 2009 in a larger map

There are several possible explanations, the bridge itself is an obvious barrier to any water voles moving upstream, there is obviously no vegetation under it and it has vertical concrete banks. The weirs at Newcut Mill could also act as barriers to water voles moving downstream. Of course, despite being assessed once a month (as I go look for otter spraints), I could have just been unlucky or not observant enough.
Newcut Mill to the Dragons Teeth
The section of the river from Newcut Mill to the dragons teeth (constructed in world war 2 to impede invading tanks) has often featured in this blog:
.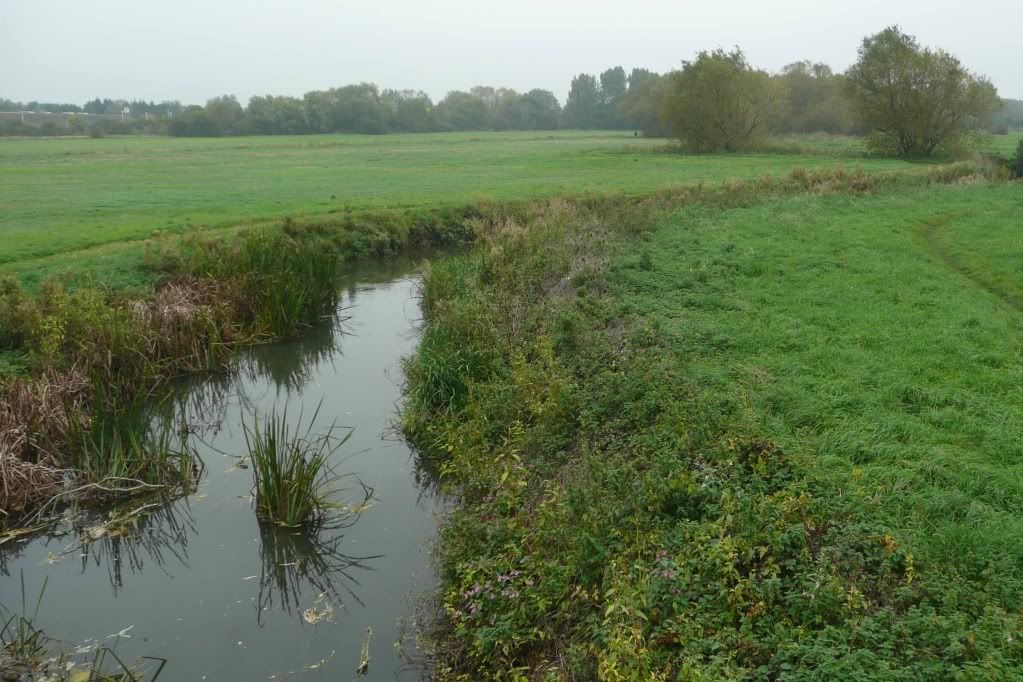 .
In 2009 there were numerous sightings along this stretch and seemed to be the main water vole colony on the ock:
View Water Voles in the River Ock - Abingdon, 2009 in a larger map
Like a lot of small rivers the Ock is prone to flooding and high water levels and although the river did not burst it's banks in winter it was very high. I've been interested to see how water voles coped with this and they seem to have survived well, as can be seen in the 2010 map (in fact I stopped putting pins in it).

View Water voles 2010 in a larger map

.
Despite a lot of Himalayan Balsam and occasional flooding, this section of the river is ideal for water voles - steep banks for burrows, lots of sedge for cover and food as well as lots of water plants (arrowhead and water crowfoot) for them to feed on in late summer.
It is from the footbridge (towards the bottom of the map) that I saw my first ever baby water vole:
http://viewsoftheock.blogspot.com/2010/07/baby-water-vole.html
And it is on the second meander where I recorded these films:
http://viewsoftheock.blogspot.com/2010/06/water-vole-films.html
And this previously unused picture was taken back in July:
.
Dragons teeth Teeth to Weir
After the dragons teeth, the banks change from being open to being overcast with willow trees. This has the effect of changing the habitat - no sedge, instead nettles become more common and there are fewer water plants:
.
Still, whilst undertaking a BBOWT survey in may, it wast pleasing to have four water vole sightings right next to the weir and was featured in featured in the following posts:
http://viewsoftheock.blogspot.com/2010/05/towards-weir.html
.

View Water voles 2010 in a larger map

.
There are less sightings, but it is interesting that the change in habitat has not impeded the water voles in colonising this stretch of the river.
Although very fuzzy, this picture taken on this stretch attempts to show a water vole scampering up one of the banks, showing how agile they can be and explain how they can quickly avoid rising water levels:
.
.
The next posts will focus on the upper and lower ocks as well as the Ock meadow & Sandford brook.