Today is April Fools' Day, a day when people play practical jokes on each other. But rather than writing a preposterous post about whales being seen in the Thames or evidence of beavers being found near Abingdon, I thought I would play the joke on myself and share some photos which - for obvious reasons - haven't featured previously in the blog:
The secrets of wildlife photographer are - interesting subject, correct camera settings and good focus, all of which fail in this picture of a wood pigeon:
.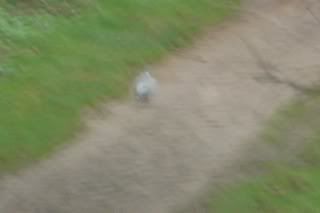 .
Dark badger, on a dark night, in a dark field - with no flash:
. .
No idea, what this was supposed to be, but whatever it is, it's not in focus:
.
.