Now the snow has gone, the river has a somewhat melancholic feel to it - there are no water voles, the trees have lost their leaves and the day light does not last long enough.
But there are still things to keep an eye out for, for example, this mudslide has lots of footprints - possibly somewhere a dog has decided to go for a swim..
.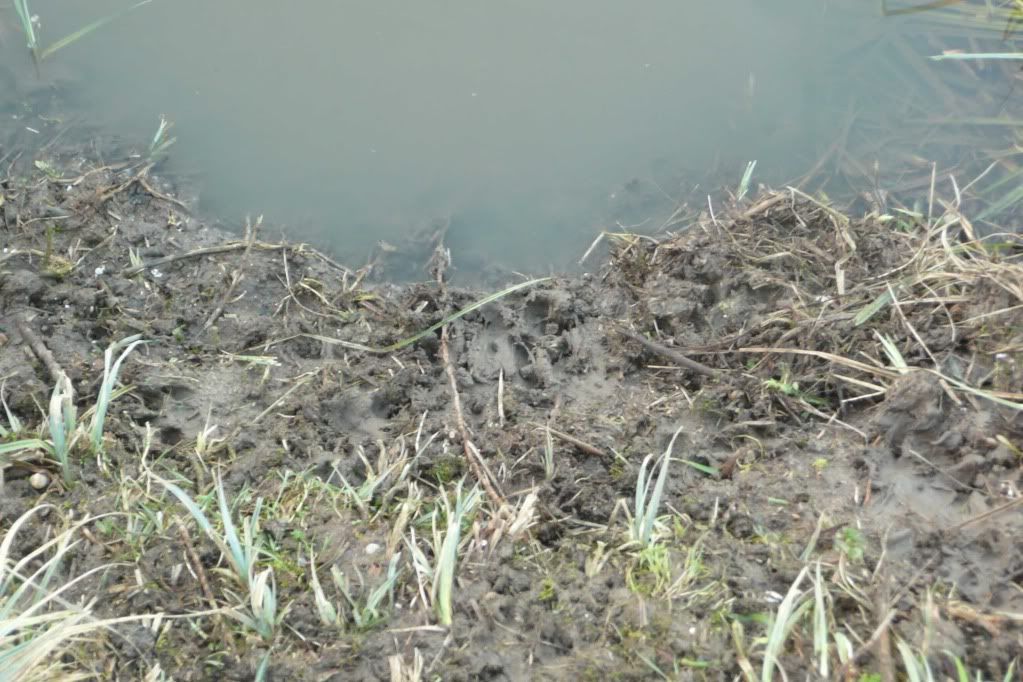 But a closer look shows it could provide access for a different animal, the circled footprint does not appear to be a dog:
.
A closer look seems to show the animal has five toes and not four and the size indicates it could be another otter footprint - this bank being a place where it chooses to enter and leave the river:
.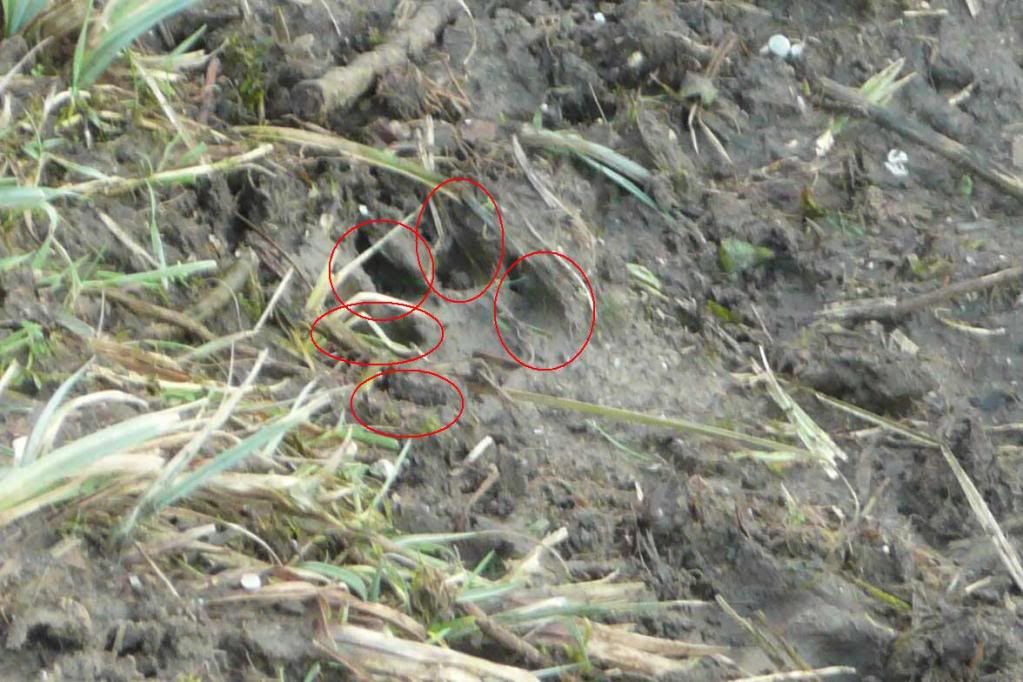 This latest find is an opportunity to update the Otter map with three new pins (in red), this footprint is marked as C. Whilst B is the footprint I discuss in the post on footprints on 23rd December, and A is the footprint found near the allotments as mentioned by Chris in his response to this post (thanks Chris!!):
.

View Otters 2010 in a larger map
.
I have several new years resolutions for this blog and one of them is to get an photograph of an otter. This is very ambitious and although I have 12 months to try I will be as surprised as anyone if I succeed.
In order to be successful there are three techniques to consider:
1. Luck
- All my sightings of animals on the Ock are just coincidental - I rarely go out to find something specific, instead I just see what I come across, so although unlikely, it is not impossible that if I spend enough time walking by the river in the evening or night I may come across an otter. This is how I found a
badger
- another elusive mammal in 2009.
2. Sit and wait - The approach taken by professional photographers to identify a suitable site and wait in one spot for hours and hours. There are two drawbacks to this, firstly I have a day job so I can't spend all night waiting for an otter and secondly I don't think I have the patience.
Another problem is the lack of light, with otters being nocturnal I may catch a glimpse of one but getting a picture would be harder. Although a high ISO setting, a steady hand and the light pollution from Oxford might make a picture possible - but I do want to avoid using a flash.
3. Remote Cameras - Often seen on wildlife programmes and now getting cheaper, the best option would be to place a series of remote cameras along the river - allowing the river to monitored over several days and using Infra-Red it would solve the lack of light problem.
Although I would need to find a secure location, which would mean putting them on private land to the west of the A34.
With a lot of experience, a lot of knowledge and a great deal of effort, camera traps can provide incredible results:
http://charliehamiltonjames.blogspot.com/2010/09/is-there-anything-you-dont-take-apart.html (although I don't intend to pictures inside a holt).